Being a first time dog owner, I learnt from attended the classes that my concerns were the same concerns of most new puppy owners. I was struggling with toilet training, leaving the puppy alone, even what toys and treats to give them. I had no idea what was normal/ to be expected. My main concern however was that I had started to worry that my beautiful puppy had some sort of biting issues. I was covered in cuts and bruises; I even had the awful thought of 'what have I done?'
I did a lot of research into different training courses and there are a lot that look reputable, but one of the main reasons I chose contented canines is that there seemed to be a sense of community – from the puppy play groups, monthly group walks, Facebook group etc. Also in hindsight I didn't realise how and important and beneficial the focus on socialisation would be.
Just a comment about the puppy nanny, the visits that Debbie has done with Sandie have been absolutely amazing! The service feedback I received from her has been so detailed and it's such a joy to read, especially when Sandie has got to experience something or somewhere that I would struggle to take her due to work commitments. Also, she was really helpful and approachable in the classes. With attending the puppy classes, I feel like I have learnt so much. It has really helped with my understanding of puppies and dogs and has encouraged me to research further. Having Nicola and Debbie there to explain and answer questions was invaluable. I never felt stupid for asking my many 'is this normal' questions It also made me realise most of my concerns before were completely normal and the other puppies on the course were doing similar things. We both absolutely loved coming to the classes and excited to start the next course in January.
100% – I have even been recommending the course and the puppy nanny to dog owners I meet out and about, who comment on how well behaved Sandie is.
Alyssa with Sandie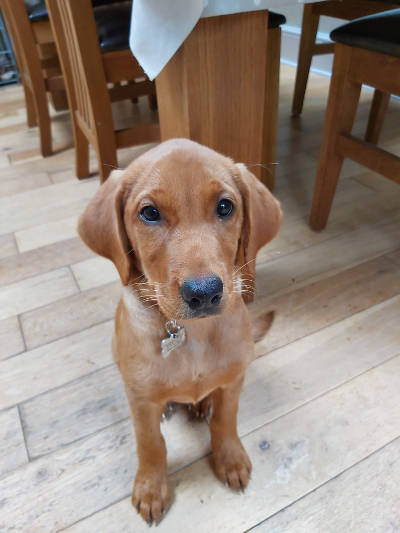 Saffy has settled in fantastically, she is crate trained and is now toilet trained. Her mouthing/biting has dramatically reduced; she is a loving and loyal pup who brings so much enjoyment. Nicola has given the whole family confidence in owning our first dog.
The service is second to none. The Puppy nanny service is fantastic – it's really supplemented our pup's socialisation and is great when I can't be at home all day.
I have already recommended to friends.
Louise with Saffy
My mum and I just wanted to give you an update on how we were getting on with Toby and also to say a huge thank you for all your help with his training.
Attending your puppy and training classes was he best thing we could have done for Toby. Your dedication and passion for dog training comes through in all your classes. Your support and guidance has helped us tremendously. Toby learnt so much as did mum and I and also had lots of fun.
We are still tackling the 'jumping up' but we are getting there.
Have attached an up to date picture of Toby for you and again just want to thank you and your team for all your support and guidance.
Heather, Maureen and Toby
We were getting two puppies and whilst I have had puppies and trained puppies before I hadn't done for some time and my husband hadn't done at all so we were concerned about ensuring we had a good training programme ready to go. Our main concern was work as we both work full time and didn't want the puppies left for long periods so we were looking for a dog walker. I really liked Nicolas friendly approach but most of all she showed that she knowed what she was talking about but also that she was really passionate about her job and giving dogs the best training. We discussed training programmes but I also mentioned my concerns about hour working patterns and Nicola suggested we could use her puppy nanny service – Nicola took the time to come to our house and meet the puppies and explained what they can do on the walks and the flexible options which are available. Our pups are always really happy on puppy nanny day – they get so excited to see Nicola, Debbie or Fiona. The boys are done really well with their training and have come on on their walks so much. The boys hated walking when we first started and were not confident with traffic noise or new environments. The boys now are off, they stride out confidently and only occasionally get nervous but with some encouragement on they go. The boys love you and it's lovely to see how excited they get when they see you.
Harriet, Ben, Winston & Hugo
We were concerned that Beau would be left for 2 days per week while we were at work. We thought the Puppy Nanny would be beneficial for Beau especially as training and socialisation are included on the walks and home visits. Beau has become more confident and her socialisation is brilliant due to both the Puppy Training and Puppy Nanny. We as new puppy owners have also benefited from attending the Puppy Training and having Nicola and her team on hand for advice. We would definitely recommend to other dog owners.
Nigel and Kim with Beau
I was worried about Ralph being alone and unhappy while we were out at work all day, leading to separation anxiety and behavioural issues. Ralph has learned some basic commands and is learning how to walk on a lead and play nicely. Ralph is really happy and we don't have to worry about him on the days that we are out!
Rebecca with Ralph
I have had dogs for 40 years but never a pup, so I thought it would be good to have some dedicated time for the pup away from the other dogs and see if there was anything different I needed to be doing. The course is full of useful advice and training goes at a pace that allows time to practise skills with the pup, but also done in small bit sized chunks so that pup doesn't get distracted/bored.
Gail with Harley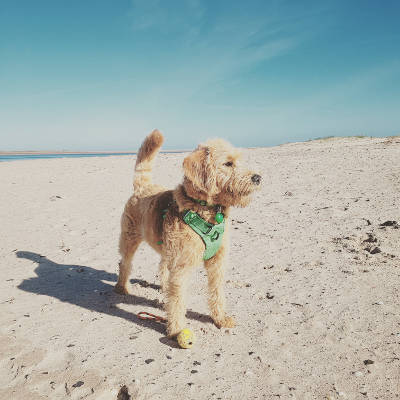 We wanted to make sure that we train our puppy so that he is a good dog, we are first time dog owners so wanted to make sure we do things properly. Main concerns were biting and jumping up as we have seen how jumpy the breeders adult labradoodles were and we have young nieces and nephews and will have kids one day so want to make sure we train the biting out of him. We had a family dog that we had to rehome when I was younger and I really wanted to put time in to train our puppyso that we didn't end up in the same position again.
We had really good recommendations through friends and Gus is coming along really well, responding to new things being taught, less bitey and generally responds well to training.
Lucy with Gus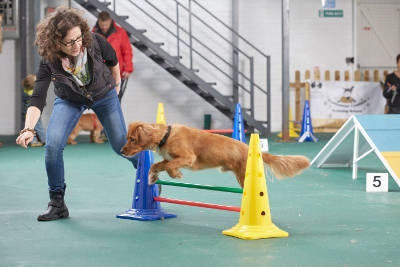 Our whole family have attended the puppy training courses run by Nicola and her team with our dog, Buster. We all learnt invaluable skills that have eased us into being dog owners, and Buster loved meeting other dogs each week of the courses. Nicola is always very calm and clear in her instructions, and will guide you if, and when you go wrong. My daughter was inspired to take the agility course too, and this has now become one of her hobbies. Thanks to Contented Canines for all your help.
Rhoda with Buster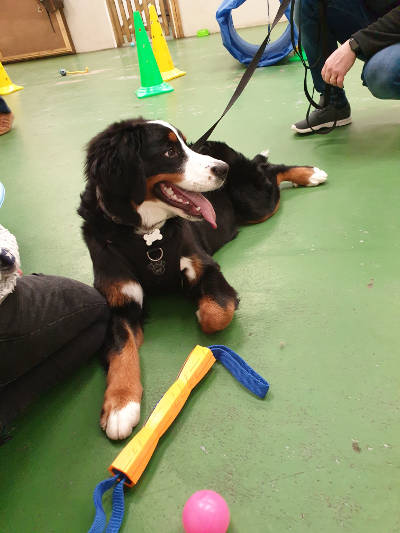 Took my Tia to the training classes earlier in the year and she loved every minute of it socialising with the other dogs and leaning to sit and stay etc. Her daughter Bella is to follow in her footsteps and starts training in January after attending a Puppy Playgroup. Looking forward to train my new 'baby' just like her mum. Thank you Nicola and love the new venue.
Jane with Tia and Bella
Contented Canines has provided us with just what we needed as new and inexperienced puppy owners. Not only have 'we' been delighted with the outcomes of the sessions but Hesketh equally has enjoyed his training as he bounces through the door to see his other doggy friends. Nicola and her team are proficient, friendly and always willing to offer help and encouragement. Having attended both the Foundation Skills Course and the follow on Skills for Life Course we are well on the way to having an obedient dog who is fun to be with. A great 'find'!!
Ruth, Julie and Hesketh
Having 4 children, a rescue cat with issues and a clear brief of how we wanted our dog to behave we contacted Nicola. She was a superstar and instrumental in teaching not only our dog but our family as a whole! The children looked forward to our sessions and Nicola would set them tasks to practice with the dog ready to showcase in our next session. She gave us ideas and thoughts and most definitely they worked in practice. She truly is a dog whisperer!
Her love of all animals is apparent and at the heart of all she does. Sensible dog ownership is a huge commitment, Nicola and her team ensure the process is made as easy as possible giving strategies and tactics that help families in their quest to enjoy fully their Doggy addition! We wholeheartedly recommend her and believe a necessity that pays for itself with the skills she will teach.
The Hazelhurst Family with Hennessey
Nicola came to us to help train our Doberman pups Sam and Daisy. Nicola's approach is very professional and consistent and we understood what we needed to do to successfully train our dogs. We found Nicola very friendly and knowledgeable and very very patient! We asked Nicola to come to us because we were not able to make it to the group sessions. We were really pleased we decided to take Nicola's advice and would definitely recommend her. We'd certainly go back to her if we need advice in future.
Paul with Sam and Daisy
I had lessons at home with Nicola from Trixie being about 10 weeks old. Even though I had had dogs before, it was brilliant to have Nicola involved from the beginning, in those very important weeks of toilet training, routine and socialisation. Trixie is a Border Collie, and even in those early days, when she wasn't able to go on walks, very much needed mentally stimulating. At the end of each session, Nicola would give me our 'homework' to practice for the next lesson. It was brilliant to be focused from the start, and I've reaped the rewards since. I also had with Trixie many collie type traits, she wanted to chase cars, bikes, balls, basically anything that moves. Nicola showed me different strategies to try and techniques to work on. It took some time, but she will now run through fields of sheep off lead, watch the cricket off lead, and ignore cyclists and cars. She's just 12 months. I can honestly credit how amazing she is to those earlier home sessions, and subsequent group training sessions with Nicola and Contented Canines.
Zoe with Trixie