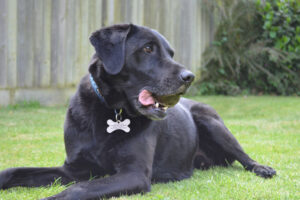 Does your dog bark or lunge at visitors to the house or garden? Or at other dogs or people on walks? Or both?! We prefer the term 'reactive' to 'aggressive' at Contented Canines. We understand how upsetting it is to be unable to invite friends and relatives round for a visit. We know how unbelievably stressful it can be to walk a dog when you are terrified of coming across another dog for fear of your dogs reaction.
Believe it or not, the majority of reactive behaviours are fear based. Your dog is actually scared of visitors, and frightened of other dogs and people on a walk. His dramatic displays of teeth and strength are based on the fight or flight response. He feels trapped in the house and garden around people, or on lead around people or other dogs so the flight option is not available for him. He must choose fight! He is hoping to scare away those people or other dogs away!
Sadly many owners don't understand the reasons for their dogs reactive behaviours and may scold or even smack their dogs for reacting. This damages the trust between dog and owner and certainly does nothing to help the problem. In fact it will make an already highly stressed and anxious dog even worse!
In order to remove the reactions we need to remove the fear. It is our job to teach the dog that there is nothing to be scared of and that alternative coping techniques are available.
Let us help you with this job and put together a detailed step-by-step training programme with you taking you through the path to a happier, more relaxed and confident dog.
But don't just take our word for it! Read this case study, recommendation and reference from one Contented Canine and his happy owner!
I had met Strauss for some puppy training when he first joined the Bentley family. Sadly due to some bad experiences Strauss had begun to react to visitors coming to the house, people on walks and some dogs. He was barking and lunging and becoming difficult to control, and the family was worried about inviting guests to the house.
I would highly recommend Nicola from Contented PetCare for individual dog training. She responded promptly to my enquiry, made an assessment visit and a written plan of action. Practical sessions followed with one to one instruction and demonstration supported by written notes and evidence of supporting research. Session were tailored to my dogs individual issues.
Ruth Bentley with Strauss
Tamla's owners Jonathon and Ellen got in touch as she was extremely reactive around visitors to the house. Inviting guests to the house was a very stressful experience for Tamla and for her owners as she would lunge and bark at everyone. She was a very anxious little dog.
We are delighted with the service and expertise we received from Nicola at Contented Pet Care. Our dog has shown significant behavioral improvements after we had the training sessions. We have continued the training ourselves on a day to day basis with excellent results.
Jonathon and Ellen Close with Tamla
I have known Elsie since she was a tiny puppy as she attended our training classes. After some bad experiences on a walk she then developed some reactive behaviours so her owner got in touch to book some home training sessions to focus on this.
Elsie had attended all of Contented Petcare's puppy classes and the agility classes. She was really well socialised, always been around lots of dogs and happy meeting dogs on walks. She was attacked by a dog randomly on a walk with no injuries and I was more shocked than she was. However gradually over time she became more and more nervous when seeing dogs approaching from afar and even when meeting dogs on the walk. She would tense up then stare at them from far away and warn them away before they get near with a grumpy growl. Nicola did some one to one sessions at home with me and Elsie to use positive rewards to help both distract Elsie initially and teach her that the new dogs are not threatening. It's really helped me feel more confident with what to do and what not to do when she is tensing up as well as help me communicate confidently with other dog owners regarding her needing some space and not wanting a dog jumping on her head! She has improved with meeting dogs she still has work to continue but I'm glad it's getting better and not worse. She still meets new dogs on her home stays and when she is out with the other dogs with the dog walkers and has continued to be great in those settings. I can see now how her problems escalated from that one event and wish I'd realised sooner she was changing as it would have been easier to reassure her earlier on. Anyhow I wouldn't have known what to do or what was happening with her and it has given me skills and reassurance with how to manage and improve her behaviours.
Chris Mycio with Elsie