You've made the decision to adopt a puppy or new dog, chosen a breed and welcomed the fluffy little bundle of joy into your home! It's such an exciting time! You look forward to lovely long walks together, dog friendly holidays and cosy cuddles up at the end of a full day together. A new companion for your resident dog or a comforter and protector for your children. You want to show your new family member off to the world!
But you weren't prepared for how much hard work she is! The first 6 months is non-stop and can be really difficult! And then just when you think you are getting the hang of it adolescence kicks in! This can be a really trying time and you may find yourself with new challenges to work on, especially if you have rescued an older dog or puppy whose previous owners haven't put in the hard work of training!
Needle teeth biting at hands and clothes; Chewing at furniture and household fittings; Toileting all over the house; Scaring the children and visitors to the house by jumping all over them; Constant refereeing between pup and the resident dog and other pets; Phew – I could go on!
All of these behaviours are perfectly normal healthy puppy behaviours but many puppies need a nudge in the right direction to help them grow out of them. And on top of working on these issues as a responsible owner you also need to factor in socialisation, feeding a good diet and getting the right amount of exercise.
Your new puppy or dog simply doesn't understand that biting your skin and clothes just isn't polite. Her mother and littermates will have started teaching this but we need to continue their work. Punishing her for biting is unfair when she doesn't understand she has done wrong, and can in some cases accidentally reinforce and unwanted behaviour! She needs to chew in order for her new teeth to come through but not on your brand new kitchen! It is our job to teach her this and provide her with alternative chews! And if we don't address this early on she may use mouthing and chewing as an attention seeking behaviour.
All puppies will toilet train themselves eventually, but we want to speed that up! Telling her off for having an accident will delay the process and affect your relationship with your pup. Rewarding her for going in the right place is much nicer and far more effective!
Puppies are much smaller than us and jump up to try to get close to our faces. Our automatic response is to have a cuddle when they do this – we can't resist those puppy eyes! Unfortunately this will only serve to reward the behaviour and dogs and puppies will continue to do this because they get such a wonderful response! Instead we need to focus on teaching and rewarding polite greetings.
Children can quickly become disappointed that their cute furry friend isn't a cuddly toy and can actually hurt – let us reduce any conflict and make sure that we help them develop a wonderful lifelong friendship with their new little pal. It is essential that children learn respect, and the correct and safe way to behave around all dogs in order for your pup to develop into the perfect family pet. We need to ensure the whole family has a positive experience with puppy, and vice versa!
Other pets can feel displaced by the attention showered on the new addition. Cats are vulnerable to being chased and resident dogs are not always thrilled with their new playmate. We need to teach her self-control and good manners around the other family furries early on before she develop bad habits.
Sadly many puppies end up in rescues before the age of 6 months. Don't let your puppy be one of those! Why not book in some training with us so that we can guide you along the right path to happy puppy companionship!
But don't just take our word for it! Read these case studies and references from some of our Contented Canines and their happy owners!
Grace is a lovely Labrador puppy whose owners wanted to make the best start with her training. They also had concerns about settling her in with their resident cat and wanted to know how best to introduce them and how to reduce any conflict.
We had a home session with Nicola soon after we brought our puppy Grace into our home. It was so convenient having Nicola come to us, and we were able to cater our session to our specific needs – mostly how to make sure our cat accepted the newest member of our family and didn't desert us! Nicola was understanding of our concern for our beloved cat and helped us to establish a plan to integrate Grace into the family. I am happy to report that while they are not yet the best of friends, the integration is going smoothly and both our puppy and cat are happy and healthy. Thank you Nicola for your help!
Brooke Love with Grace
Sam and Daisy are adorable Doberman siblings. Their owner Paul is an experienced Doberman owner who booked in some home training sessions with me soon after Sam and Daisy arrived in their new home. These cute little bundles would soon grow and Paul wanted to make sure they had the best start!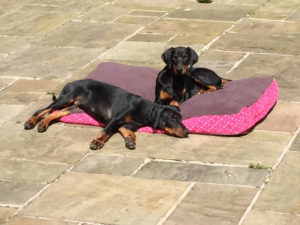 Nicola came to us to help train our Doberman pups Sam and Daisy. Nicola's approach is very professional and consistent and we understood what we needed to do to successfully train our dogs. We found Nicola very friendly and knowledgeable and very very patient! We asked Nicola to come to us because we were not able to make it to the group sessions. We were really pleased we decided to take Nicola's advice and would definitely recommend her. We'd certainly go back to her if we need advice in future.
Paul with Sam and Daisy
Poppy is a black Labrador puppy who has a lovely temperament and was very willing and eager to learn! Her owners Gary and Haley got in touch when circumstances meant that she wasn't able to attend our training classes. They really took the training on board and Poppy is a credit to them!
Not having raised a puppy previously we were unsure as to the best way to go about all the required tasks to ensure we ended up with a happy, well behaved dog. Our training progress with Poppy was hampered when as a puppy she suffered a health issue which basically meant she was unable to mix with the dogs. We spoke to Contented Canines and were delighted when Nicola stated she was willing to come round to our home to help was with the 'puppy fundamentals'. On each occasion we found Nicola's advice extremely helpful, the help did not just cover one subject, but covered everything from the way we should deal with certain situations right up to positive reinforcement methods. We can honestly say this has helped to develop a social, friendly, well-trained and intelligent dog.
Haley and Gary with Poppy
Jess is a scrumptious fluffy bundle of German Shepherd puppy! Her owner Sue got in touch to book in some home training after experiencing some problems with mouthing and chewing and the early stages of food guarding. As the owner of a soon-to-be large breed dog Sue wanted to lay the right foundations for Jess.
The one on one training and advice was invaluable. Nicola came to our house and watched how Jess interacted and responded with us. At each visit she addressed any concerns or problems we raised and the  detailed  notes she left helped to remind us of the best way to deal with training and any issues we had.
Sue Thorpe with Jess
I met Millie the beagle as a tiny puppy when her owners wanted advice on making sure they made the right start with her. They were struggling with toilet training and wanted to make sure she was happy and settled when left on her own.
We called on Nicola's services for a home training session when our beagle puppy was around 4 months old, mainly to help us learn how to positively toilet and crate train her. I was struck by Nicola's knowledgeable, calm but friendly approach. She clearly has a wealth of experience of dealing with many different breeds with many different needs! She went over and above what we expected, really taking the time to listen to the problems we were experiencing, and then tackling each one in detail. She even left us extensive written notes for us to refer back to in times of need. I would definitely use her home training services again, and I'm sure our beagle would be thrilled to see her too.
Nicole Pilmoor with Millie