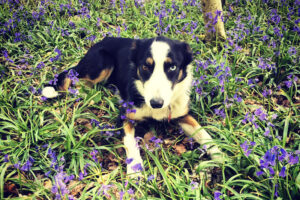 Dogs can become fearful of new things and things that they just don't understand. This can be due to negative experiences in their past, lack of socialisation and even genetics. Dogs may be afraid of certain people, animals, situations, objects, sounds and even smells. They may demonstrate this by avoidance, fearful body language, panting and trembling among others.
If a dog reacts in a fearful way it is essential that this fear is addressed as soon as possible to avoid the fear becoming ingrained into the dog. The sooner a problem is addressed the sooner it can be solved.
Continued exposure to a fear-causing experience can reinforce the dog's belief that it is something to be scared of, and can in extreme cases lead to a complete shutdown of their senses. Imagine an arachnophobic being sat in a bath full of spiders as a treatment for their phobia!
Complete elimination of the fear followed by a gradual reintroduction combined with positive reinforcement at the dogs own pace is one of the best ways to work on this problem.
Why not get in touch so that we can put together a programme which is tailored to you and your dog!
But don't just take our word for it! Read these case studies, recommendations and references from two Contented Canines and their happy owners!
Clara is an 18 month old Cocker Spaniel who had recently been adopted by new owners having spent her life previously at her breeders and mainly kept kennelled. Clara was a very nervous and scared little girl, probably because of the lack of socialisation done by her previous owners. Her owner Jo got in touch to help build her confidence and help her relax in her new home and surroundings.
We initially asked Nicola for a home assessment after taking on an 18 month old cocker spaniel (Clara) who had lived all her life in a kennel. Clara wasn't house trained and didn't know any basic commands. Nicola spent some time talking us through Clara's routine and any concerns we had and getting to know what we would like her to help us with. Nicola had so many great ideas about helping Clara settle into home life, helping us with ideas from teaching her basic commands, through to keeping her entertained and using up her boundless energy. Nicola even managed to teach our 13 year old cocker some new commands! We took on every piece of advice Nicola gave us and we now have a very settled, very content, well behaved little dog. No-one would ever imagine she had spent her first 18 months in a kennel! We certainly felt the home visit was extremely useful for Nicola to understand Clara's routines and see her in the home environment. We can't thank Nicola enough and would recommend her to anyone who takes on a dog not matter what age.
Jo Scott and Clara
Minnie is another rescue dog who had had a difficult start to life. She was welcomed into her new home by owner Val and her two resident dogs. Her introduction brought about some changes in behaviour and experienced dog owner Val lost her confidence. She got in touch with me to see if I could help.
I booked Nicola to do some home training to help with some issues I had with my latest rescue dog settling in with my other two dogs. She was very professional and worked well with me and my dogs giving me helpful guidelines and practises which were written down for me to follow. She is very calm and knowledgeable which helped to instil confidence in me as I was finding the behaviour issues challenging. However by following Nicola's suggestions there was a marked improvement by the time of the follow up visit and I was a lot more relaxed.
I continued by taking Minnie to the training classes as she had never had training even though she is nearly three and she has proved to be a quick learner in Nicola's classes and isn't nervous anymore. I thoroughly recommend Nicola and the Contented Petcare team for their dog training programmes.
Val with Lou, Molly and Minnie