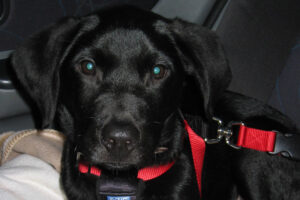 Lots of puppies get travel sickness! Remember that first car journey home from the breeder or the rescue? Most dogs are very unsettled by this car journey and can often vomit or toilet in the car. You might be hoping they will grow out of it. And many dogs will do.
But for a minority car journeys can become a nightmare. As owners you are unable to take him with you everywhere you go as you had hoped. And you are having to use boarding kennels instead of taking him on your lovely dog friendly holiday. Your dog doesn't want to get in the car, and salivates, yawns and pants once in there. Sometimes he will even vomit.
There is a solution to this problem and we can help.
Once dogs associate car travel with being sick they will become afraid of getting into the car. If you then force him into the car he will become anxious and stressed which will in turn make him more nauseous. If he feels nauseous this then reinforces that he was right to be reluctant to get in the scary car! And so the cycle continues…
To solve this problem we need to put together a programme of gradual positive introductions to car travel at a comfortable pace for your dog or puppy.
You will be able to enjoy long journeys together and take your dog on holiday with you – just get in touch and we will teach you how.
But don't just take our word for it! Read this case study and reference from one Contented Canine and her happy owner!
Fearne is a lovely black Labrador pup. I had previously worked with her owner Linda training her other two labs, Molly and Katie. Fearne had severe travel sickness and accompanying anxiety. She was so scared of the car that she refused to get in it at all. Linda had tried various medications and home remedies to no avail before she got in touch for my help.
I have 3 Labradors and have used Nicola on 2 separate occasions for 2 of them for very different reasons.  The help, advice and support that I got on each occasion was excellent.
The more severe problem was that my youngest pup was extremely travel sick up to the point that even touching the lead or my boots she would run and hide then she would begin salivating and vomiting, and the vomiting would continue when we got in the car. I had gone down the conventional treatments which the vets had recommended but she appeared to be getting worse, not better as time went on. I didn`t ever think that we would be able to travel anywhere in the car with her as she was so bad. I was also aware that as she was a youngster I needed to get the lead training right, but was unable to do any due to the state that she got herself in when I touched her lead. It was then I contacted Nicola and following a home visit, a plan was arranged to help my pup over her fears of the lead, my boots and the car enabling her to enjoy her walks with her 2 sisters. It was not a `quick fix` and took many, many weeks of reassuring, encouraging and repetitive training to build up her confidence, but following the instructions on the plan that we had arranged and also with the support from Nicola, I now have a very happy girl who loves the car and her walks and has no longer any issues with the it, and when I get my boots she knows that it is fun time again.  Nicola gave me the ability to help my little girl to overcome her fears and enjoy being a puppy again and I always knew that there was support at the end of a phone when I needed it. I cannot recommend Nicola and Contented Pets enough and would not hesitate to contact her again should I need help or support.
Linda Kirk with Fearne